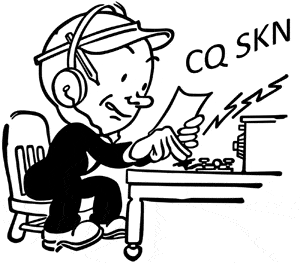 Polish and lubricate that old morse key and enjoy an evening of old-time radio fun.
Straight Key Night is an informal event which honours the roots of amateur radio: Morse Code sent with a straight key (no bugs, sideswipers, keyers or keyboards).
This semi-annual event is supported by the
New Zealand Morse Code Telegraph Key Directory.

---
When
Winter SKN is the second Sunday in June, 8-9pm NZ time.
Summer SKN is the first Sunday in December, 9-10pm NZ time.
---
Band
80m (3.5 MHz)
---
Mode
CW sent with a straight key (no bugs, sideswipers, paddles or keyboards)
---
Rules
Maximum transmitter output: 100 watts.
All contacts must be CW-to-CW.
All contacts must be made using a straight key (with exceptions for operators who cannot use a straight key due to disability).
Stations must not 'park' on a frequency making multiple contacts. The CQ station must give up the frequency as soon as they make a contact. Get full details of the QSY Rule.
---
Exchange
RST / Location / Name / Key / Transmitter / Power
We recommend calling "CQ SKN" or just "SKN" rather than "CQ TEST" for clarity and to help promote the event.
We recommend exchanging meaningful RST, rather than an automatic "599".
---
Bruce Scahill Best Fist Award
The Best Fist Award returns to SKN, starting with the Winter edition (11 June 2023). It is now named in honour of long-time SKN supporter Bruce Scahill ZL1BWG (SK). Please be sure to nominate the ONE operator who you believe had the best fist during SKN. Nominations must be received within one week after the event. More information.
---
Logs and summary sheets
SKN is an informal event so you will not be submitting a log or summary sheet. These forms are available, however, should you wish to use them for your own record-keeping. They can be downloaded using the links below.
---
Resources
PDF format is recommended if you wish to print and fill in by hand.
Word format is for those who wish to fill in the forms on their computer.
Log sheet: PDF format | Word .docx format
Summary sheet: PDF format | Word .docx format
View the results from previous contest-style SKNs:
Dec 2018 | Jun 2019 | Dec 2019 | Jun 2020 | Dec 2020 | Jun 2021
---
Want to get in touch?