This is a fortnightly newsletter about the New Zealand Net.
If you would like to be notified by email message when a new edition is published, please contact ZL1NZ.
You are also welcome to browse our newsletter archive.
Highlights
Propagation has been good the past few weeks, but it's been a slow start to the year in terms of NZ Net check-ins. Hope to hear more of you back on air soon as the summer holidays wind down. Here's our latest monthly report:
NR10 R ZL1NZ 37/34 AUCKLAND 0800Z 3FEB20
=
NZ NET
=
JANUARY QNI ZL1AJY 5 ZL1AYN 3 ZL1NZ 23 ZL1RD 2
ZL2GD 19 ZL2LN 4 ZL2WT 15 ZL3GAV 1 ZL3RX 4
ZL4CU 6 ZL4FZ 4 ZL4KX 5 ZL4LDY 10 VK4PN 1
TOTAL 102 QTC 19
=
ZL1NZ
And, here's our monthly activity since the NZ Net began: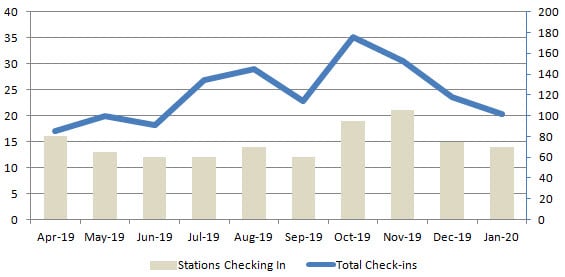 ---
Portable Remote operation
Dave ZL4LDY, who uses his desktop computer to control a remote station at Blenheim, has been using his laptop lately. It has lower specs but seems to do the job, so don't be surprised if you hear Dave running the net from exotic new locations. I'm bracing myself for something like VK2/ZL4LDY/2. 🙂
---
Trivia
Every Wednesday, you can copy the NZ Net Trivia message. Here's a recent example:
And here's a reply message from ZL2WT. The recording starts with NCS ZL4LDY/2 calling ZL1NZ:
---
Net tip: Service messages
There is a special type of message called a Service Message, which is basically a message about a message!
Service messages are most often used to report that a particular message has been delivered, or not delivered. The service message is sent to the station that originated the original message. Here's an example:
SVC 8 R ZL2GD 12/10 RANGIORA 0800Z 4FEB20
=
ZL1NZ
=
RELAYED YOUR MSG NR10 TO ZL1BWG ON 60M LAST NIGHT
=
ZL2GD
Points to note:
An ordinary message begins like this: "NR 10 R…" but a service message begins with SVC instead of NR. If you forget, and send "NR SVC 8…" that's OK too, but you don't need the NR.
To make it easy to remember where to insert "SVC", the latest edition of the maritimeradio.org message blanks has a couple of checkboxes: one for NR and one for SVC.
SVC is not a message precedence, like R (Routine) or P (Priority). It is a completely separate attribute.
The priority of a SVC message is always the same as the message to which it refers, e.g. R in the example.
If you've been given traffic to forward to another station or member of the public, and you cannot contact them in a reasonable amount of time, you should send a SVC message back to the originating station. It's also good practice to send a SVC message after successfully delivering a message to a third party.
For related information, see Message Handling Codes
---
Suggestions?
If you have suggestions on how to make the NZ Net better, or things you'd like to see covered in these updates, please contact ZL1NZ. You might even like to write something for the newsletter.
Thanks for reading, and I hope to see you soon on the NZ Net!
—
Neil Sanderson ZL1NZ, Net Manager
New Zealand Net (NZ NET)
3535.0 kHz at 9pm NZT Mon-Fri