This is a fortnightly newsletter about the New Zealand Net.
If you would like to be notified by email message when a new edition is published, please contact ZL1NZ.
Highlights
Summer must be approaching, because conditions on 80m are deteriorating. Some of the signals that were 599 for me a week ago are now more like 459.
But we are a resilient bunch of ops. Thanks to having stations all around the country, the Net should function well year-round, although Net Control stations may be asking for a little more help with relays. So it you hear someone that Net Control doesn't hear, don't be shy – let us know please.
No new records were set in November, except maybe for perseverance in the face of weaker signals. The monthly net report will be transmitted during next Monday's net.
---
Welcome to our newest check-ins
We have recently been joined by Bob ZL1AYN. Bob has held that callsign since getting his ticket in 1966. Now 80 years old, he has recently got back into amateur radio with an IC-7300 and antennas that he admits are limited by the small size of his section in Morrinsville.
Other newcomers are Duncan ZL/G3WSD who is staying near Kerikeri, and Ken ZL3AA in Christchurch.
---
NZ Net Trivia has arrived!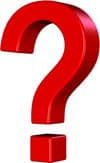 NZ Net Trivia is a fun way to learn, or brush up on, traffic handling skills. We kicked it off on 20 November – as a purely optional part of the NZ Net – and here's how it works:
Every Wednesday I send a piece of traffic at the end of the net. Anyone is welcome to copy the message, which will contain a New Zealand trivia question.
Your job is to find the answer (hello Google!) and send the answer back to me as a formal message during any subsequent NZ Net session.
As an example, here's the most recent trivia question: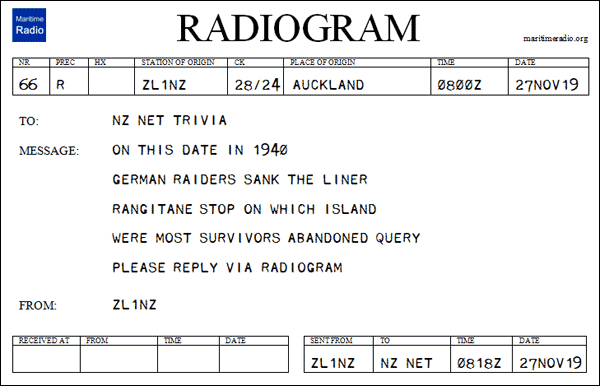 Because I don't know which stations will participate on a given day, I follow the message with this general query:
ANY QSLS OR FILLS? K
Each station then sends their callsign (just like checking into the Net), gets acknowledged, and sends either "QSL" or requests a fill. When I hear no more calls, I close the net.
Here's one of the replies to the question above, from Richard ZL4FZ: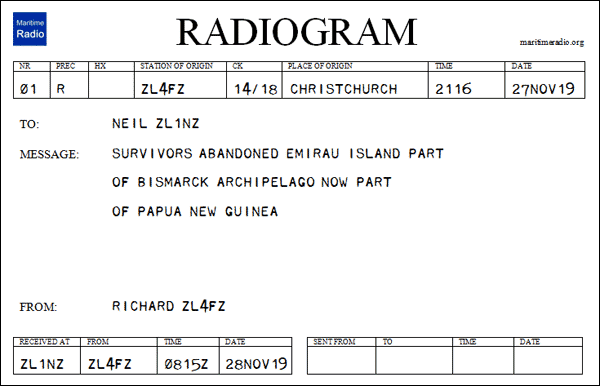 Your answer can be as short or as long as you like (but no more than 25 words in the text please).
---
Straight Key Night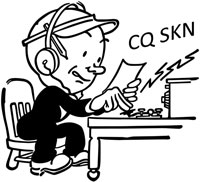 Summer SKN is this weekend: Sunday 1 December from 9pm to 10pm on 80 metres.
We had a great turnout for Winter SKN so please dust off your straight key and join the fun. No bugs, paddles, cooties or keyboards. Just straight keys please. And remember, transmitters must be 100-watt output or less.
You can find all the details at maritimeradio.org/skn
---
More mysterious CW
I was tuning around after the net recently and on 3536.0 kHz (just 1kHz above the NZ Net frequency) I recorded "ZJL4" being sent over and over for 10 minutes. This seems to occur from :15-:25 and :45-:55 each hour. The clip below is from around 0920Z. The signal was about S4.
A bit of Googling reveals that this station has moved around the 80m band over the years, and that it is a spy "numbers" station, although no one seems to know which country operates it. It's more proof that CW is alive and well, although it would be nice if these spies got out of the amateur bands!
---
Video tour of KPH
Most ops are probably familiar with the mighty KPH coast radio station near San Francisco, and perhaps you have worked them on air (their amateur callsign is K6KPH). Although they are mostly quiet at the moment (fires in the area have restricted access to the Pt Reyes National Seashore where the station is located) they are otherwise workable from New Zealand on our Sundays around midday on 14050 kHz. I have worked them many times from my own station and from ZL1ZLD at Musick Point, another historic coast station.
The following video, shot about five years ago, gives a really good overview of the station, starting at the transmitter site. And it contains lots of Morse! You'll notice in the video that the station is called KSM, but since the video was shot the volunteers have managed to secure the original callsign KPH and they are active not just on amateur bands but on MF and HF marine frequencies too, operating mostly CW with a bit of RTTY.
---
Net tip: QND, QNZ, QNI
You'll notice that Net Control starts the Net by sending "QND QNZ QNI PSE", so what's that all about?
QND is easy. It just means that the net is "directed", i.e. under the control of the Net Control Station, and everyone should follow their instructions.
QNZ means "zero-beat frequency of the Net Control Station". That frequency will normally be close to 3535.00 kHz but may not be, for a couple of reasons:
If there is QRM, Net Control may decide to shift the net frequency.
Some Net Control Stations (i.e. ZL1NZ) use ancient equipment without frequency counters, so may be a little above or below the advertised frequency.
The bottom line is: Net Frequency is the frequency that Net Control is on, so please zero-beat that frequency, which makes it easier for everyone.
QNI should be familiar to everyone, but it's an interesting one in that it has two meanings:
If sent by Net Control, it means "Check in now please"
If sent by anyone else, it means "I am checking in to the Net" (which is usually self-evident)
---
Suggestions?
If you have suggestions on how to make the NZ Net better, or things you'd like to see covered in these updates, please contact ZL1NZ. You might even like to write something for the newsletter.
Thanks for reading, and I hope to see you soon on the NZ Net!
—
Neil Sanderson ZL1NZ, Net Manager
New Zealand Net (NZ NET)
3535.0 kHz at 9pm NZT Mon-Fri