This is a free fortnightly newsletter about the New Zealand Net.
If you would like to be notified by email when a new edition is published, please contact ZL1NZ.
Browse our Newsletter Archive and List of Net Tips.
Featured key
By Don ZL2LDX
I found this little key in Lower Hutt and identified it as a YA-1860 from a Field Telephone Set D MkV used during World War II by Canadian (and possibly British?) Forces.
It would seem that this key was "mounted" to be used. None of the holes are tapped, so it must have been screwed, or mounted, into position to be used.
I have seen photos of it in two positions in the Field Telephone set, central top or bottom right.
It has two sets of contacts, one on each side of the central bar. One set has a normally closed contact, so the buzzer would operate during receive (or phone operation), and both sets of contacts would close while sending.
As you can see from the attached photos, it measures 54mm x 42mm at the base.
* If you have an interesting key for this feature, please send me a nice clear photo and a few words describing it.
---
Quick notes
FCC monitoring
is the theme of this
NZ Net News
. When I was a lad, US hams sometimes spoke of the
Federal Candy Company,
but maybe that was to downplay their fear of an infringement letter arriving from the
Federal Communications Commission
. The FCC monitored the airwaves, including the amateur radio bands, and there is an interesting video below describing their monitoring sites. Evidence of their CDAAs (explained in the video) can still be spotted using Google Earth.
Elon Musk controls emergency communications? You might have seen in the news recently that One NZ (formerly Vodafone NZ) has made a deal to use Elon's Starlink satellite network to offer mobile phone coverage to all areas of New Zealand. One NZ says this will be more reliable than terrestrial services which failed spectacularly in areas hit by Cyclone Gabrielle in February. This was announced as I was reading about four yachties who were rescued in the South Pacific after their yacht struck a whale and sank within minutes. They called for help via satphone, EPIRB and VHF-FM. Rescue vessels then coordinated using Facebook's WhatsApp chat service accessed via Starlink. I don't know which version of Starlink the yachts were using, but only the Maritime version is stated to work globally, and it's not cheap (US$1000 per month plus the hardware cost).
Another takeaway from the yacht rescue story: After the crew got into their liferaft, they discovered that all their vital communication devices were low on battery charge, and their emergency recharger was also low. Fortunately, they were rescued in just nine hours, and were able to ration their power consumption during that time. But it's a good reminder to always keep emergency equipment fully charged.
The SKCC Oceania QRS Saunter will take place on Saturday 15th April from 0000 UTC until 2359 UTC. Get details.
FISTS Downunder will be celebrating Guglielmo Marconi's birth date and contribution to our hobby during April. Australian members of FDU can apply to use the special callsign VI1MARCONI. Marconi Day is officially celebrated on 22 April, the Saturday closest to Marconi's birthday on 25 April.
Amateur Radio Day is next Tuesday 18 April. NZ Net will be celebrating this occasion by doing what we always do – keeping CW alive on 3535! Happy Amateur Radio Day to all ops. Please drop me a line if you do something special to mark this day.
---
Net numbers

Here is the monthly net report, as transmitted to all stations on 3 Apr 2023:
NR22 R ZL1NZ 41/38 AUCKLAND 0900Z 3APR23
=
NZ NET
=
MAR QNI VK3DRQ 14 VK4PN 11 ZL1AJY 4 ZL1ANY 18 
ZL1AYN 12 ZL1NZ 22 ZL1PX 8 ZL1RA 17 ZL2GD 16 
ZL2GVA 21 ZL2KE 7 ZL2LN 6 ZL2TE 7 ZL4CU 2 
ZL4FZ 4 ZL4KX 20 TOTAL 189 QTC 32
=
ZL1NZ
---
Photo flashback
How powerful was the Federal Communications Commission? Well, as you can see from the photo, they even had their own car registration plates! 🙂
The receiver in the car appears very similar to a Hallicrafters SX-17 Super Skyrider, a receiver produced in 1938-1939. It has a few extra controls and front-panel connections, however, so was possibly made especially for the FCC or modified by their technicians. Imagine the sound from that enormous loudspeaker!
---
NZ Net to mark Marconi birthday
---
Dashless Code
Have you ever heard of non-Morse telegraphy which has no dashes? US prisoners of war used it in Vietnam, where voice communication had severe penalties.
It is impossible to send Morse Code dashes by clicking two rocks together or using shoe taps, tapping on lunch tray tops, etc., so someone invented a dashless code. Here it is:
For further information, read In Love and War by Jim and Sybil Stockdale.
I wonder what it would sound like on a bug?
– Bill Marshall, in Morsum Magnificat Nr 6, 1987
---
Morse challenge
John G4ETQ is an NZ Net News reader, and in late March he worked the DXpedition station CY0S. Afterward, John sent me the photo shown below, which was taken at the CY0S location, along with two questions which you will find in our Morse Challenge.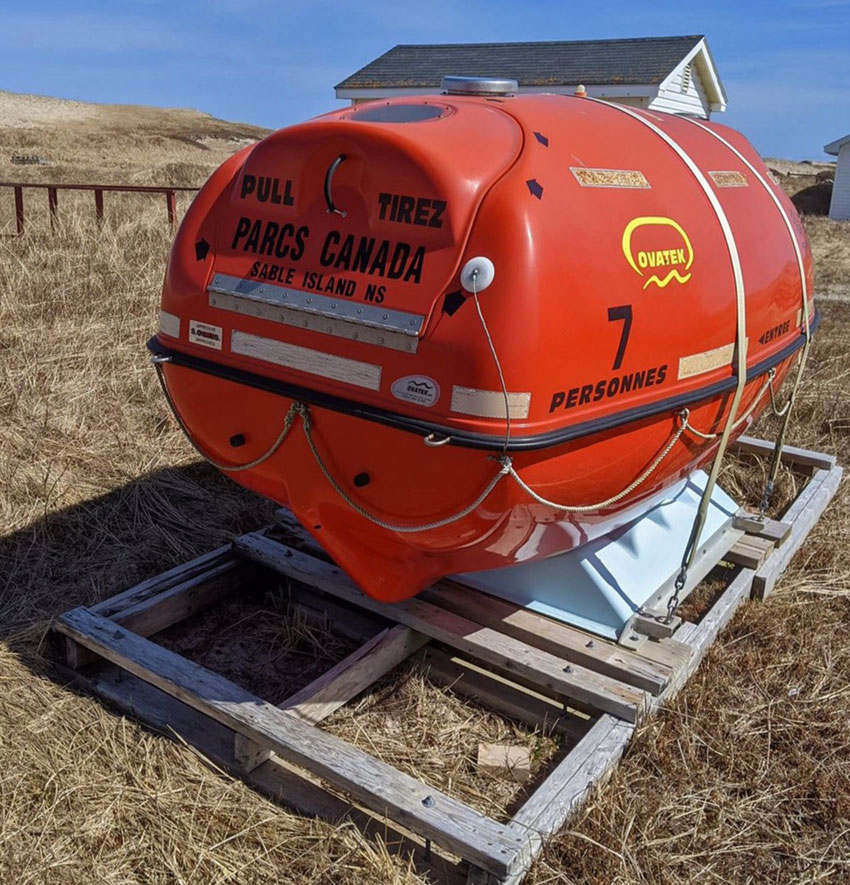 Answer to previous Morse challenge
The callsign of M/V Monte Palomares was EDMI. Correct answers were received from VK3DRQ (who sailed on the ship), ZL1ANY and ZL1AYN.
---
Video: FCC monitoring sites
---
Advertising archive
---
Suggestions?
If you have suggestions on how to make the NZ Net better, or things you'd like to see covered in these updates, please contact ZL1NZ. You might even like to write something for the newsletter.
Thanks for reading, and I hope to hear you soon on the NZ Net!
—
Neil Sanderson ZL1NZ, Net Manager
New Zealand Net (NZ NET)
3535.0 kHz at 9pm NZT Mon-Fri