This is a fortnightly newsletter about the New Zealand Net. If you would like to be notified by email when a new edition is published, please contact ZL1NZ.
Browse our newsletter archive.
Featured key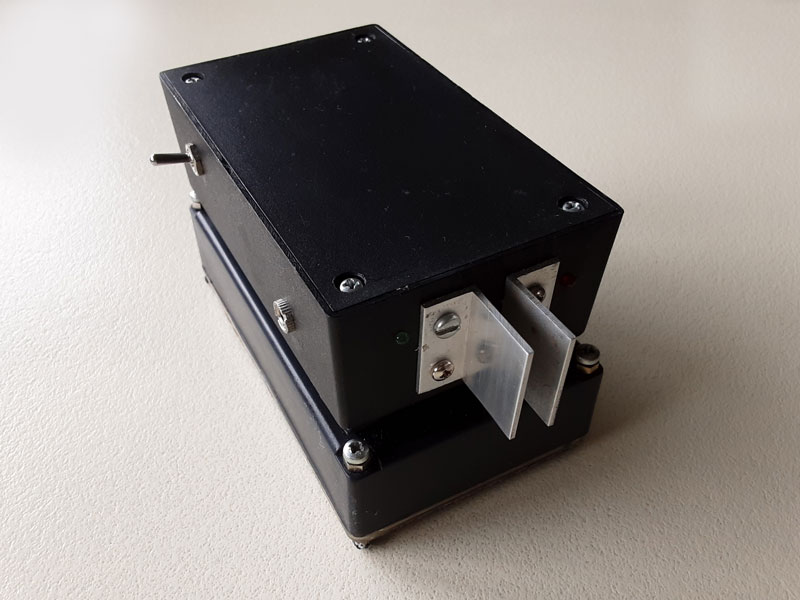 By Barry ZL2LN
My touch key was designed by 9A9Y and details of a kit can be found on his website.
I purchased this key from a local ham who, unfortunately, is now a silent key. The bottom box I think contains a heavy weight which makes it very stable. What doesn't show in the photo is two LEDs, one for power-on, red, (9 volt battery), the other green, which illuminates when the paddles are activated.
Its nice to use, very sensitive, and of course no moving parts – but you do have to watch where your thumb and forefinger are! The key plugs into your existing electronic keyer. Both boxes are black plastic.
---
Quick notes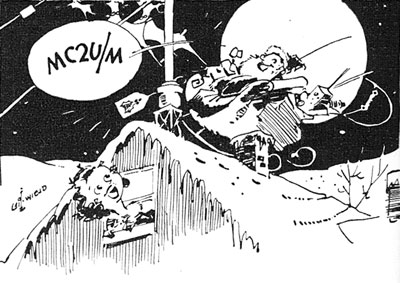 I hope all our NZ Net members and all NZ CW operators had a nice Christmas. If you're reading this on the other side of the International Dateline, Merry Christmas from New Zealand. No matter where you are, let's hope 2021 is a heckuva lot better than 2020.
NZ Net members claimed the top three winning scores in the Summer Straight Key Night. Paul ZL1AJY, Neil ZL1NZ and Grant ZL2GD each contacted 15 stations. There were 19 participants, including a good showing from NZ Net people.
Want more? The ARRL Straight Key Night (which is actually a 24-hour event – shouldn't they change the name?) runs 0000-2359 on 1 January (UTC). Has anyone tried participating in this? I don't think I've heard any stations in previous years, even on bands open to USA, but will probably try again this year.
We have no one rostered to be NCS on New Years Eve and I will not be on the air, so if anyone runs a net that night, could you please send me a list of check-ins, via QTC? Thanks.
Cartoon: Philip 'Gil' Gildersleeve in QST, December 1958

---
Greetings from across the Tasman Sea
NR30  R  VK3DRQ  28/25  BLACKBURN VIC  1000Z  17DEC20
=
NZ NET
=
SINCERE WISHES FOR A MERRY XMAS AND HEALTHY 2021 STOP
MAY THE NET CONTINUE GROWING STOP SORRY CONDITIONS NO GOOD
FOR QNI STOP 73 77
=
MANNY
---
Give your bug a raise!

By Ian IK4EWX
Ted McElroy, the fastest CW operator of all time and a great key maker, said that the best way to operate a bug was with the finger pieces 2.5 to 3 inches (6-7cm) above the table.
I tried putting my bug on a book – and I found that I agreed with Ted. My bug was easier to control and sending was a lot less tiring.
I told my friends IK4DCT and IK4DKO. They both tried it, and they too liked the higher bug very much.
Then I suggested it to my friend, the master key maker Piero Begali. He tried it with a Begali Intrepid bug and liked it so much that he said me "I will produce some bases for elevating the Intrepid for my friends."
Piero is a great man, and I now have two wonderful accessories, that I use under two of my bugs: a 1919 Vibroplex Blue Racer and a Begali Intrepid.
The Intrepid was solid as a rock, but now even better, and the Blue Racer doesn't move around anymore. I like that this product is a Ted McElroy idea, realised by Piero Begali – two great CW key masters – with a little help from a CW operator (me). 🙂
Editor's note:
After reading Ian's comments about the raised bugs, I had a nice email discussion with him (check out his beautiful collection of bugs), and he sent me some magazine articles from the 1930s by Ted McElroy. Ted was not just a legendary telegrapher, speed typist, showman and entrepreneur – he was also a gifted writer. Reading his articles had me laughing out loud – and convinced me I need to raise my bugs!
Ted's advice relates to bugs, as they require much more force than modern paddles to operate well. He strongly discouraged bug operators from resting their arm on the table and keying with fingers and wrist. His advice was to get your arm off the table and use arm motion to send.
Here's one of Ted's articles, from QST, November 1935.

---
Riddle prompts creative replies
Stephen ZL1ANY had us scratching our heads when he sent a QNC during the NZ Net on Monday 21 December. For those who missed it:
NR25  R  ZL1ANY  35/31  MASTERTON  0917Z  18DEC20
=
NZ NET TRIVIA
=
HE WHO MAKES ME DOES NOT WANT ME HE WHO
HAS ME DOES NOT NEED ME HE WHO USES ME
DOES NOT KNOW HE HAS GOT ME WHAT AM I
QUERY
=
ZL1ANY
Gerard ZL2GVA and David ZL2WT responded the following night with cryptic answers which, when taken together, made the answer clear. Lots of fun.
---
Photo flashback
---
Morse musing: commercial codes
The Q Signals and Z Codes can speed up Morse communication dramatically. But the old timers took it way beyond what we use today.
The military had special abbreviations, but so did commercial organisations. This was partly to obscure the meaning for competitive advantage, but also to reduce the word count and cost when sending telegrams and cables.
Sometimes an entire sentence would be replaced by a single word – sometimes a "made-up" word – and there were numbered messages too.
As radio amateurs, we still use the numbered Western Union 92 Codes of 1859, or one of them at least: 73, meaning 'Best regards.'
Here are are a few more examples of message codes:
ARL SIXTY ONE = Wishing you a very Merry Christmas and a Happy New Year
ARRL Numbered Radiograms
PETRIFY = The stolen articles have been found in the possession of the prisoner
Police Telegraphic Code, 1928
IRISCOPE = We cannot consent to loading at more than one port
Ager's Shipping Telegraph Code, 1877
ANILITY = If you cannot execute order at our price, send lowest quotations by cable
John Crossley & Sons (carpet makers), 1885
POTUS = President of the United States
Phillips Telegraphic Code (for news wires), 1879
---
Video: Ode to the Radio Officer
Here's a lovely poem from Dave Ellis G4AJY. The volume's a bit low, so crank it up for a good listen.
Nice presentation by Dave too. Did you catch the mention of ZLB?
---
Net tip: radiogram administration
A: Message filing
Do you have a system for keeping track of radiograms?
The photo above shows how I do it. The four clips at the right hold the 'working set,' comprising:
Message blanks
Outgoing messages (waiting to be sent)
Sent messages
Received messages
The 'Sent' and 'Received' folders hold the most recent dozen or so messages and I like to keep them handy in case I need to re-send or relay one.
When those clips are full, I move older messages into larger 'archive' clips shown at the left. At the end of each year, all the messages get put away. Why? Well, I'm not really sure. 🙂
B: Message numbers
You can use any system you like for numbering the messages originating from your station.
At the start of a new year, most amateur traffic handlers like to reset their originated message numbers to NR1. This is a handy way to keep track of how many messages you create each year.
---
Suggestions?
If you have suggestions on how to make the NZ Net better, or things you'd like to see covered in these updates, please contact ZL1NZ. You might even like to write something for the newsletter.
Thanks for reading, and I hope to see you soon on the NZ Net!
—
Neil Sanderson ZL1NZ, Net Manager
New Zealand Net (NZ NET)
3535.0 kHz at 9pm NZT Mon-Fri