This is a fortnightly newsletter about the New Zealand Net.
If you would like to be notified by email message when a new edition is published, please contact ZL1NZ.
You are also welcome to browse our newsletter archive.
Highlights
The monthly QNI report will be included in the next letter, after it is broadcast on next Monday's net (the first net of June).
But it was another strong month for the net, albeit not quite as strong as the days of full lockdown in April.
There were 154 check-ins from 19 stations during May.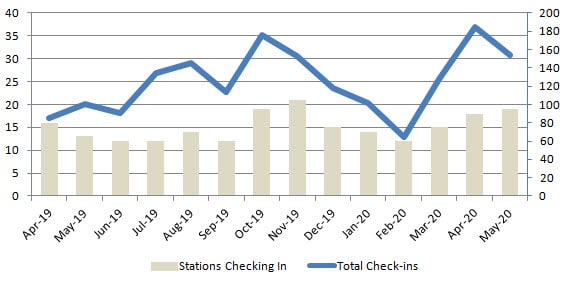 In other news, the net shifted down 1 kc on Thursday 28 May due to a strong carrier on 3535.0 which seems to have occurred about the same time as a fault at the ZL2KS remote site which prevented access by net control Dave ZL4LDY who normally uses it for the net. We don't know yet whether these events are related – but mercifully the carrier was not there this evening.
Dave, in the meantime, is off the air until the problem at ZL2KS can be identified and repaired.
---
SKN fast approaching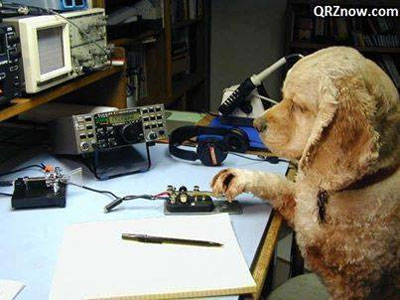 The next NZ Straight Key Night will take place 8-9pm on Sunday 14 June.
This time, we're going to try something a little different to spice up SKN. It's called the QSY Rule, and I strongly urge you to get familiar with it. If you don't, well…I think it will be a bit like driving on the wrong side of the road and wondering why everyone's tooting their horn!
To try and make sure no one is caught by surprise, I've written about the QSY rule, and some hypothetical situations, at the link below. I may not have thought of everything, so please fire your questions to me.
After SKN, I welcome comments about whether we keep the rule or keep it in an altered form.
» Find out more about SKN, including the QSY Rule.
---
CW traffic nets featured in podcast
Don ZL3DMC spotted a recent episode of the dit-dit audio podcast which featured Carl W8WZ talking about CW traffic nets in the United States.
Below is an edited version of the podcast. I think it is worth listening to, including the closing comments by host Bruce Pea N9WKE.
Here is the video recording, referred to in the podcast:
Although NZ Net is not part of a traffic system, such as NTS in the United States, we do have the ability to move traffic in and out of New Zealand via CW nets in Australia and the United States. If you're not sure how, just contact me, or send your message to me during the NZ Net for relay.
---
Keynotes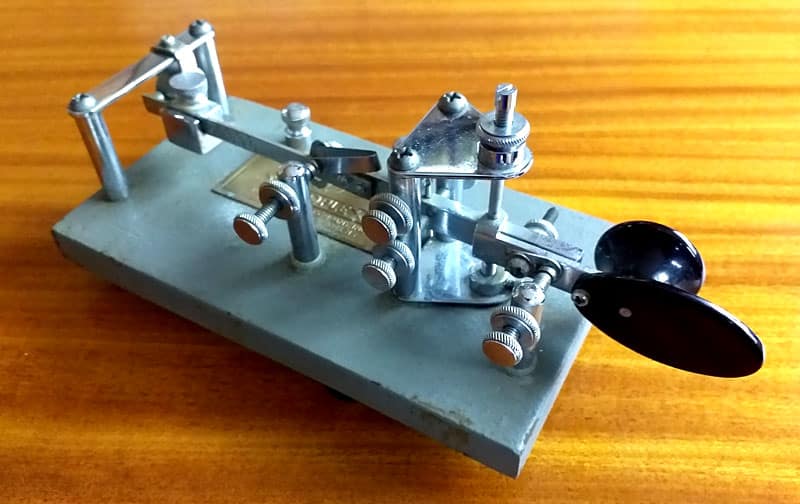 Bruce ZL1BWG recently acquired this very nice Vibroplex Lightning, made in 1978. It has a lowest speed of around 30wpm. So if you hear someone going really fast, it may be Bruce. 🙂
Of course, these bugs can be slowed down with a little extra weight on the pendulum (thank goodness).
During World War 2, Vibroplex supplied Lightning bugs to the US military, but they were labelled J-36 which is how the military referred to all "speed keys" (bugs).
In the video below, David N1EA, a former ship radio officer, demonstrates a key that looks very much like a Lightning bug, but which is actually a modern adaptation by Alberto Frattini. Alberto calls it a J-36.
Notice how David handles the exclamation points in this famous text. Although there is a Morse exclamation point (dah-di-dah-di-dah-dah) it is not officially recognised by the ITU, hence David's work-around.
---
Why components are expensive
I recently ordered several small passive components from one of our well-known online suppliers. I had saved up a list of things needed for various repairs, in order to qualify for free shipping on a larger order.
One day, I received a box containing two of the items from my order.
Then, a few days later, a courier arrived and handed me SIX courier bags, all sent from the same address in Australia on the same day, and each containing a couple of dollars worth of components. All of them would have fit in any of these bags with room to spare!
Surely, sending six separate courier bags must add to the total cost paid by the customer, as well as wasting a lot of plastic.
---
CW Bingo
I have had only one response to an idea I floated in the previous newsletter, a game of CW Bingo.
So, if you're keen to play (or be the bingo caller), please let me know in the next week so we can get it organised.
If you're lucky, you could be a Bingo Star. 🙂

---
Net tip: Z Codes
In our most recent NZ Net Trivia message, I asked:
which brings us to the topic of Z Codes. The list of Z Codes is very long, and it includes some really useful ones that are not covered in the more widely known (among amateurs) Q Codes.
The one in our trivia question is a good example.
Here are a few more that I find intriguing. I wonder how often they were used, and how the receiving op felt!
ZAB – Your speed key is improperly adjusted.
ZAC – Cease using speed key.
ZBM1 – Place a qualified speed key operator on watch on this frequency. (In the military, there were special certifications for radio operators who were proficient in using a bug, aka 'speed key.')
ZBM2 – Place a competent operator on watch on this frequency. (Ouch!)
Take a look at the Z Codes some time. Maybe there are some we should adopt on the NZ Net?
---
Suggestions?
If you have suggestions on how to make the NZ Net better, or things you'd like to see covered in these updates, please contact ZL1NZ. You might even like to write something for the newsletter.
Thanks for reading, and I hope to see you soon on the NZ Net!
—
Neil Sanderson ZL1NZ, Net Manager
New Zealand Net (NZ NET)
3535.0 kHz at 9pm NZT Mon-Fri