This is a fortnightly newsletter about the New Zealand Net. If you would like to be notified by email when a new edition is published, please contact ZL1NZ.
Browse our newsletter archive.
Featured key
Gerard ZL2GVA has been making use of his lunch breaks at work to build a new set of paddles he designed, inspired by the Vibroplex Square Racer series.

"Here's a photo of my finished paddles, showing some of the materials that were used to make them: stainless steel off-cuts for the base and pivot block, scraps of MDF for the paddles, and washers made from a plastic juice bottle. The contacts are from an old relay, perhaps a bit big, but they were the only ones I could find that were silver-plated. The cable is from an old computer mouse. The screws were the only thing I had to buy!
"Return is by magnet, requiring the levers to be made from mild steel (I could also have used stainless with a steel screw). I wanted to oxide-blacken the levers, but ended up just painting them.
"The action is good, comparable to a Bencher that I borrowed from a friend to have a look at. The only weak point is that the pivots (pointed set screws) are a bit unstable when handled roughly. I might need to look at that, I see the Bencher uses some form of small cup rather than just a drilled hole. They are plastic, but the Bencher has the spring for the electrical path, whereas my design uses the pivots for that."
Not surprisingly, Gerard is a Mechanical Engineer, and back in the Netherlands his job included a bit of work on the mill/lathe making small parts for bookbinding machines, as well as doing design. In his current job, he is a designer but gets to use his employer's machine shop and sheetmetal shop, which is certainly a nice perk!
---
Quick notes
Since this is the last NZ Net News before Christmas, I hope you all have an enjoyable and relaxing holiday season. NZ Net will continue – casually perhaps – every weekday during the holidays, although the groups may be small. If you don't hear a Net Control Station at 2100 hours, then please jump in and run a Net as formally or as informally as you wish.
Summer means conditions on 80m are not the best. The band is noisy and signals are variable. These poor conditions shouldn't stop the Net, however. We have a good distribution of stations around the country and every station on the net is a potential relay station. Our series on 'how to relay' continues at the end of this newsletter.
If you participated in Straight Key Night on 6 December, don't forget to send your log to skn@maritimeradio.org no later than 20 December. Top scores will be announced in a QNC during NZ Net on Monday 21 December.
20m CWB Net closes for summer. Bad timing from me! Just after I posted in the previous newsletter about improving conditions trans-Tasman on 20, we received word via QTC from Roy VK6RR that the 20m CWB net would be taking the summer off. The net will resume in February on 14349 at 0600Z.
---
Net numbers
Net attendance was down slightly in November (can it be that summer has arrived?) but still a strong showing, particularly from a few "regulars".
Total check-ins: 181. Stations checking in: 17. Total traffic handled: 31.

Here's the NZ Net Report for November, as transmitted during the NZ Net of 1 December.
NR92  R  ZL1NZ  43/40  AUCKLAND  0800Z  1DEC20
=
NZ NET
=
NOVEMBER QNI ZL1AJY 8 ZL1ANY 15 ZL1BWG 17 ZL1NZ 21
ZL1PC 4 ZL2GD 17 ZL2GVA 20 ZL2KE 16 ZL2LN 8
ZL2WT 12 ZL3RIK 1 ZL4CU 3 ZL4FZ 6 ZL4KX 5
ZL4LDY 6 VK3DRQ 15 VK4PN 7 TOTAL 181 QTC 31
=
ZL1NZ
---
Photo flashback
---
Most famous pangram
In a recent NZ Net Trivia, I asked "what jumps over the lazy dog, and why do we care?".
The answer was, of course, "the quick brown fox".
The sentence is a pangram, meaning it contains every letter of the alphabet, which makes it useful as a Morse Code warm-up exercise, or to test a keyboard or a TTY circuit.
Former R/O David ZL2WT had some thoughts on the subject:
"Your QTC brought back memories of a document I received in 1967 from the British Ministry of Defence. It read:

The only test text to be used is THE QUICK BROWN 
FOX JUMPS OVER THE LAZY DOG 0123456789. Text such
as NOW IS THE TIME FOR ALL GOOD MEN TO COME TO THE
AID OF THE PARTY or THE QUICK BROWN FOX JUMPS OVER 
THE LAZY DOGS BACK are not to be used.

In a recent exercise, it would be obvious to any 
foreign power intercepting the transmissions, as to 
which branch of the services the following 
unauthorised test messages came from.

One was 'NOW IS THE TIME FOR ALL GOOD MEN TO COME TO 
THE AID OF THE RAF'. Another was 'OF ALL THE FISHES 
IN THE SEA THE MERMAID IS THE ONE FOR ME'

Yet, even more unacceptable, 'OF ALL THE FISHES IN 
THE OGGIN THE MERMAID IS THE BEST FOR SNOGGING'
"The standard quick brown fox message would never have been encrypted, as it would be a big clue to code-breakers. The staff at Bletchley Park found it most useful that many German military encrypted messages ended with the words 'Heil Hitler'.
"The unauthorised test message that the Senior Radio Officer on RFA Regent favoured was:
MIRROR MIRROR ON THE WALL, 
WHO IS THE FAIREST OF THEM ALL?
YOU, KIND SIR, WITHOUT A DOUBT.
THANK YOU MIRROR, ROGER, OUT.
---
Morse musings
I wonder why, in the pangram above, we don't replace either the first or second "the" with "a". It would make the text shorter, and no less useful, wouldn't it?
A QUICK BROWN FOX JUMPS OVER THE LAZY DOG
Hare are more pangrams:
Pack my box with five dozen liquor jugs.
The five boxing wizards jump quickly.
How quickly daft jumping zebras vex.
Quick zephyrs blow, vexing daft Jim.
Sphinx of black quartz, judge my vow.
How razorback jumping frogs can level six piqued gymnasts.
Sixty zippers were quickly picked from the woven jute bag.
Got a favourite pangram? Send it along.
---
Video: Happy holidays to all NZ Netters
Did you notice the image at 1:32 in this video? That's not a QSL card, but it is something every NZ Net member will recognise – a radiogram form!
---
An idea to promote CW and NZ Net
If you are an active member of an NZART branch, how about becoming the NZ Net Liaison for your branch?
I have a few ideas about what our NZ Net Liaison people might do, such as:
let your branch members know about NZ Net activities that might be of interest to them
look for ways that NZ Net can support branch activities
promote and support CW operations at your branch
make new hams aware that CW is alive and well, and has lots to offer them

On that last topic, branch liaisons could tell me when their branch has a newly licensed member, so that I can send a congratulatory radiogram welcoming the new ham to this wonderful hobby. The message could be hand-delivered at a branch meeting, and perhaps published in the branch newsletter, making a great conversation starter.
What do you think of this idea? Would you be willing to represent NZ Net at your branch – or least let me know when you have new hams joining?
---
Scrambled signals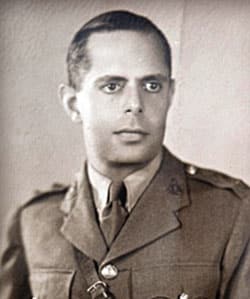 Congratulations to Don ZL2LDX who was the first one to contact me with the messages hidden in plain sight in a sampler cross-stitched by World War 2 prisoner of war Major Alexis Casdagli.
The British Major, pictured here, was a brave man – and lucky that his German captors were not CW ops.
The sampler, which was hung by the Germans in four prisons where Casdagli was held, carried the Morse messages "God Save the King" and "F&@* Hitler".
With that, we end our series of Scrambled Signals. But if you find a good one, send it along for a future newsletter.
---
Heathkit: the inside story
My first receiver was a Heathkit, and my first QSO was made using a Heathkit transmitter lent to me until I could buy one of my own. As a teenager, my hamshack always had the latest Heathkit catalogue and they were such fun to browse – over and over again.
The Heath company had a remarkable run of successful electronics kits from the 1950s through to the 1980s, including test equipment, hi-fi, amateur radio and even computers (analogue at first, and digital in later years).
Chas Gilmore W8IAI was an executive at Heath until the company closed its kit business in 1993. In an interview published just a few days ago, he talks about what made the company so successful (hint: timing is everything) and why things eventually went downhill.
I still have some Heathkit gear, how about you?
---
Net tip: acting as a relay station – part 3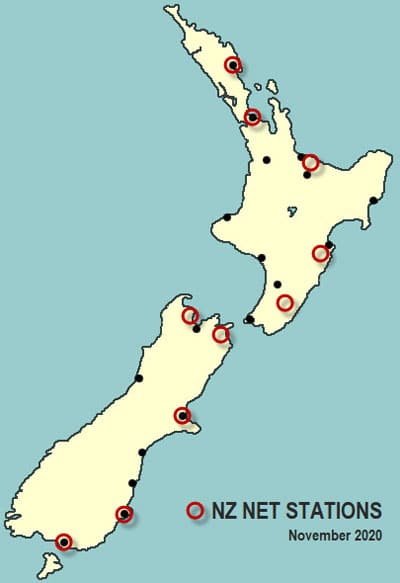 Suppose you hear a station trying to check in but not getting an acknowledgment from Net Control. It's appropriate to alert NCS and offer to act as a relay.
When you know NCS is listening, e.g. after they send the wait signal <AS>, get their attention by sending your sine, like this:
NCS: <AS>
ZL4FZ: FZ
NCS: FZ
ZL4FZ: DE ZL4FZ = QNI FM VK3DRQ
NCS: R PSE QNB
ZL4FZ: VK3DRQ DE ZL4FZ 449 HW?
VK3DRQ: ZL4FZ DE VK3DRQ 559 QRU
ZL4FZ: VK3DRQ R TKS FER QRU <AS> BTN
NCS: R TU
Here are some points to note from the example:
NCS asks ZL4FZ to QNB, which is a direction to act as a relay. This is different from QSP which means "I will relay" or QSP? ("Will you relay?).
ZL4FZ repeats the info received from VK3DRQ, which enables NCS to hear it.
ZL4FZ says "TKS FER QRU" rather than "TKS QRU" to be clear that he is not telling VK3DRQ there is no traffic for him.
All stations make liberal use of callsigns to avoid confusion.
Got a question about relaying? Please let me know and I'll talk about it in a future NZ Net News.
---
Suggestions?
If you have suggestions on how to make the NZ Net better, or things you'd like to see covered in these updates, please contact ZL1NZ. You might even like to write something for the newsletter.
Thanks for reading, and I hope to see you soon on the NZ Net!
—
Neil Sanderson ZL1NZ, Net Manager
New Zealand Net (NZ NET)
3535.0 kHz at 9pm NZT Mon-Fri