This is a fortnightly newsletter about the New Zealand Net.
If you would like to be notified by email message when a new edition is published, please contact ZL1NZ.
You are also welcome to browse our newsletter archive.
Highlights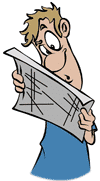 How are you adapting to 2020? I admit it's taking me a bit of time. I realised after sending an NZ Net Trivia message recently that I had given the date as 15JAN19 instead of 15JAN20. Actually, no one pulled me up on it, so maybe I'm not the only one who needs to check his calendar! 😉
Dave ZL4LDY is back on the air after several days of silence due to problems at the ZL2KS remote station he uses.
Bob ZL1AYN has also been quiet lately, as he's rearranging his shack and training for another triathlon!
Gil ZL4CU has been travelling a bit with family, but it's good to hear him back on the net, albeit a bit weak in Auckland at the moment.
Barry ZL2LN has been checking in from his portable setup during summer roadtrips.
David ZL2WT parked his motorhome at his son's vineyard over Christmas so he could keep an eye on the grapes while his son was away – and experiment with low antennas. (I guess grapes don't grow very tall, do they!).
---
Learning from the past
We all know that "QRL?" means "Are you busy?" and is commonly sent when checking if a frequency is in use. But it's a bit long and could end up causing needless interference to other stations.
A more efficient approach, which I quite like, would be to adopt the historical practice of sending "IE", as outlined recently by David Ring N1EA on the Radio Officers Facebook group:
"The original procedure was to send American Morse 'C' so no doubt this procedure goes back 100 years to the 19-teens and 1920s when ships and coastal stations in USA were required to use American Morse with USA ships.
"The official answer to American Morse 'C' (which sounds like 'IE' in International Morse) was:
E - Frequency is busy, standby.
I - Frequency is not in use, you may use it.
"This is still heard when KPH sends its Traffic List each Saturday (Sunday NZ time).
IE (pause) CQ CQ CQ DE KPH KPH KPH TFC LIST QSW 426 AND HF =
"Both American and International Morse Code had unusual features: American Morse had two types of inter-element spaces (between dots and/or dashes) and three lengths of dashes: 3 units long as for 'T' and all other characters except for 'L' and figure '0', 7 units long for 'L' and 10 units long for figure '0'.
"But most people don't know that International Morse had some strange spacings! The International symbol for 'full stop' or 'period' was 'I I I' which we would copy correctly as 'III'. But in the 1930s it was a full stop!
"Donald de Neuf, President of Press Wireless Company (competitor of Western Union that used point to point radiotelegraphy instead of wires) tells of receiving a message sent to Choisi Japan Radio JCS when the ship sent a message addressed to an address in New York, and the Japanese operator copied 'NEW YORK NIII YIII'.
"Western Union couldn't figure out the address, so they sent it to Press Wireless whose radiotelegraphers understood the problem!"
So, which signal do you prefer when checking that a frequency is clear?
---
Trivia
If you still haven't tried our Wednesday evening trivia questions, here's a recent sample so you can hear and see how it works. All you need to do is find the answer and send it back to ZL1NZ before the following Wednesday.
NR6  R  ZL1NZ  23/19  AUCKLAND  0800Z  22JAN20
=
NZ NET TRIVIA
=
WHICH OF THESE CITIES IS CLOSEST TO WELLINGTON QUERY GISBORNE
COMMA CHRISTCHURCH OR ROTORUA STOP PLEASE REPLY VIA RADIOGRAM
=
ZL1NZ
---
Net Tip
Here's a Q Signal that we don't hear very often, but it's kind of useful – especially on a net.
QUA? means "Have you news of (callsign)?" which would be sent like this:
QUA ZL3DMC?
QUA means "Here is news of (callsign)"
(And yes, it's been a while since we heard Don on the Net, and I hope he forgives me for using his callsign as an example. Come back soon Don!)
You can download a list of Q Signals here.
---
Suggestions?
If you have suggestions on how to make the NZ Net better, or things you'd like to see covered in these updates, please contact ZL1NZ. You might even like to write something for the newsletter.
Thanks for reading, and I hope to see you soon on the NZ Net!
—
Neil Sanderson ZL1NZ, Net Manager
New Zealand Net (NZ NET)
3535.0 kHz at 9pm NZT Mon-Fri