This is a fortnightly newsletter about the New Zealand Net.
If you would like to be notified by email message when a new edition is published, please contact ZL1NZ.
You are also welcome to browse our newsletter archive.
Highlights
Apologies for the brief and overdue NZ Net News. Work has been quite demanding lately, and we've had two sets of house guests, so there's been virtually no time for amateur radio at ZL1NZ. That seems to be the case for many of our usual net stations as well!
Propagation has been improving the past few weeks, with Manny VK3DRQ now audible again, and getting stronger by the day. 🙂
Here's our Net Report for February 2020:
NR16 R ZL1NZ 33/30 AUCKLAND 0800Z 2MAR20
=
NZ NET
=
FEBRUARY QNI ZL1AJY 2 ZL1AYN 1 ZL1NZ 20 ZL1PC 1
ZL2GD 9 ZL2LN 4 ZL3DMC 4 ZL3RX 1 ZL4FZ 3
ZL4KX 4 ZL4LDY 12 VK3DRQ 3 TOTAL 64 QTC 10
=
ZL1NZ
And, here's our monthly activity since the NZ Net began: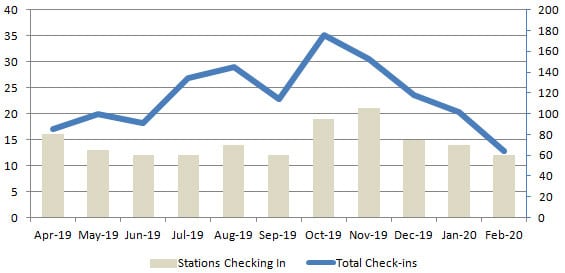 ---
Jock White Field Day
I'm a bit short on net news this time, so here's something to fill the space, a photo from Jock White Field Day 2020 at ZL1XH. You'll notice I have my trusty WT 8 Amp No 2 key ready for instant QRS, which was only needed a couple of times, as most stations operated at about 17wpm.
I wonder how many of you I worked, while we were all operating under various callsigns. Hope you had fun during JWFD, and if you have a photo of yourself at the key, please send it along for a future NZ Net News.
---
MRHS newsletter returns
It was very nice to learn today that the Maritime Radio Historical Society's email newsletter has resumed publication. It is definitely worth signing up for a free subscription.
MRHS operates KPH, KSM and K6KPH Radio near San Francisco.

---
Suggestions?
If you have suggestions on how to make the NZ Net better, or things you'd like to see covered in these updates, please contact ZL1NZ. You might even like to write something for the newsletter.
Thanks for reading, and I hope to see you soon on the NZ Net!
—
Neil Sanderson ZL1NZ, Net Manager
New Zealand Net (NZ NET)
3535.0 kHz at 9pm NZT Mon-Fri