This is a fortnightly newsletter about the New Zealand Net.
If you would like to be notified by email message when a new edition is published, please contact ZL1NZ.
You are also welcome to browse our newsletter archive.
Record-breaking performance
Was it the "Stay Home" message of COVID-19 Level 4, or just a love of CW? I'm not sure, but it's great to be able to report that April was our best month ever for check-ins on the NZ Net.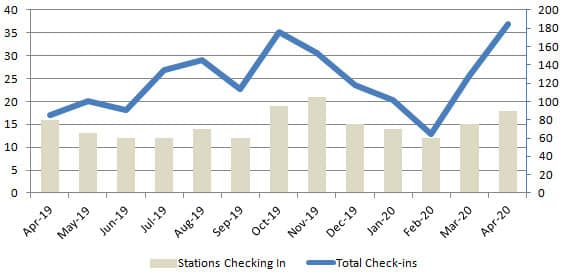 Thanks for making the Net such a success, and here's our latest monthly report:
NR32 R ZL1NZ 45/42 AUCKLAND 0900Z 1MAY20
=
NZ NET
=
APRIL QNI ZL1AYN 3 ZL1NZ 22 ZL1PC 3 ZL2GD 17
ZL2LN 10 ZL2WT 22 ZL3AA 3 ZL3DMC 9 ZL4CU 14
ZL4FZ 15 ZL4KX 16 ZL4LDY 18 VK2FGBR 6 VK2IOW 1
VK2MZ 1 VK3DBD 1 VK3DRQ 20 VK4PN 3 TOTAL 184
QTC 14
=
ZL1NZ
Unfortunately, we are currently without Dave ZL4LDY, our usual Thu/Fri net controller, as he is having some problems accessing the ZL2KS remote station.
---
Net members well represented in lockdown event
Some of our Net members were active on CW with portable gear during the two recent BYOTA (Back Yards on the Air) events. Thanks guys for keeping CW prominent on the bands.
---
Antenna game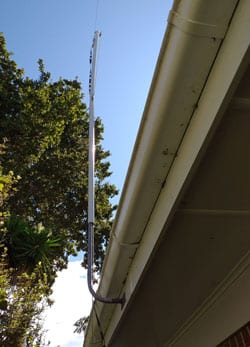 In the last newsletter I announced our new "Guess that antenna" game.
Here's how it works: you send me a photo and description of your 80m antenna, and then we see if the other Net members can identify you based on your antenna.
Here's the latest challenge:
This former TV aerial mast supports the centre of a doublet aerial fed with 450-ohm window line. The aerial is about 5m above ground.
Whose antenna is this?
How did you do? If you haven't sent in your antenna photo yet, please do so!

---
Coping with COVID-19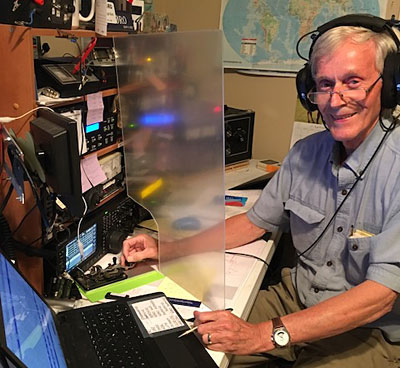 Apparently it is important to protect your favourite key from the COVID-19 virus, as illustrated by Ralph K0RO.
This may be a good precaution, although scientists have yet to find any evidence that a straight key can catch a bug.

---
Crafty composition creates crazy QTC
Some of you will have been lucky enough to be on the 1 May net and hear David ZL2WT respond to the weekly trivia question. If not, let me explain why this was so much fun.
This week's question was:
NR31 R ZL1NZ 26/22 AUCKLAND 0900Z 20 APR20
=
NZ NET TRIVIA
=
IN THE 1950S AND 1960S MANY US COMPANIES MADE AMATEUR
RADIO EQUIPMENT STOP PLEASE NAME THREE OF THEM AND REPLY
VIA RADIOGRAM
=
ZL1NZ
David likes to be creative in his responses to the trivia questions. As he says, it's more interesting than having multiple stations reply with the same, or very similar, messages. But this time, David outdid himself, as you can hear in the message below. I strongly recommend taking time to copy it on paper to get the full impact.
After the Net, David suggested how strange it would have been if I had responded with QTB on that message, and he's right! What's QTB? Check our Net Tip below.
---
Curious habits
I saw an interesting comment in one of the Morse Code groups on Facebook. A former ships radio officer recalled that a particular coast station would send the "wait" signal <AS> at normal speed if the wait was not too long, but would send it slowly if the coast station was busy and the wait would be a long one. What an interesting idea!
---
Net tip: QTB
After copying a piece of traffic, it's essential to check that your count of words agrees with the Check numbers in the message preamble. It's a very effective form of error checking, and the sending operator should give you all the time you need to confirm that your copy is 100% – so there's no need to rush.
The first thing to do is ask for fills on anything you're not sure you copied correctly.
Then, if your count still doesn't agree with the Check number, it could be that you missed a word or two, or perhaps the sending operator miscounted. There could be confusion due to imprecise spacing (was that "9.30PM" or "9.30 PM"?).
Naturally traffic handlers have a Q Signal for sorting out this problem – and it is very slick:
QTB? means "Do you agree with my word count?"
Either operator can send it. For example, you could ask the sending operator "QTB 41/36?" and they will then check their original message, and either correct the Check numbers or send something like "CFM 42/37" in which case the two of you still disagree.
What then?
QTB means "I do NOT agree with your count. I will now send the first letter of each word/group."
As you can imagine, this is a very quick way to find the problem. Usually the receiving station does this, and it works best if they are using full break-in. As they send the first letter of each word (with word spacing between letters) the sending station interrupts as soon as they detect that something was miscopied. The receiving station pauses, and the sending station provides the necessary fill.
With traffic handling, the goal is 100% perfect copy, and both stations are responsible for making sure it happens. QTB allows the ops to quickly resolve their disagreement and move on to the next QTC.
Imagine sending a QTB of David's message mentioned above! It would be Hysterically Hilarious, I think. 🙂
---
Suggestions?
If you have suggestions on how to make the NZ Net better, or things you'd like to see covered in these updates, please contact ZL1NZ. You might even like to write something for the newsletter.
Thanks for reading, and I hope to see you soon on the NZ Net!
—
Neil Sanderson ZL1NZ, Net Manager
New Zealand Net (NZ NET)
3535.0 kHz at 9pm NZT Mon-Fri