This is a fortnightly newsletter about the New Zealand Net.
If you would like to be notified by email message when a new edition is published, please contact ZL1NZ.
You are also welcome to browse our newsletter archive.
Highlights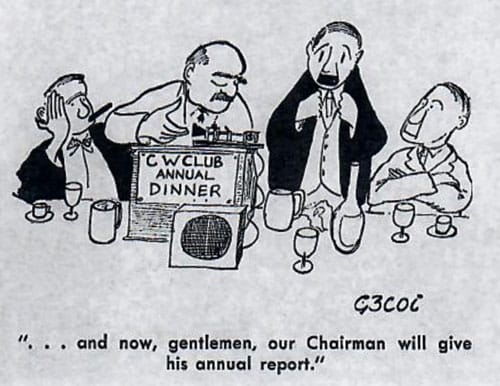 Chilly weather, variable propagation, heavy QRN, but the NZ Netters continue to gather nightly at 2100 hours!
This cartoon was spotted by Ann ZL1BFB in a 1962 edition of CQ Magazine, and it made me think of our monthly NZ Net reports! (You can listen to the latest one, below.)
June was another good month for the Net with 169 check-ins and 21 stations checking in, including first-time check-ins from Don ZL2LDX and Peter VK4QC.
We also set a new record with 20 pieces of formal traffic handled on the Net.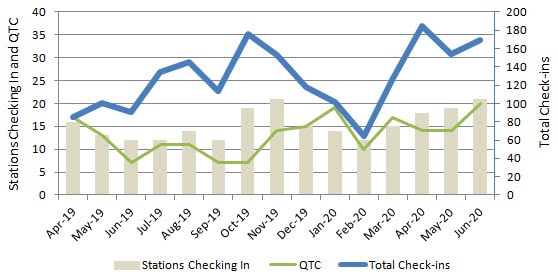 Here is the Monthly NZ Net Report:
NR49 R ZL1NZ 51/48 AUCKLAND 0900Z 1JUL20
=
NZ NET
=
JUNE QNI ZL1AJY 4 ZL1ANY 2 ZL1AYN 3 ZL1BWG 15
ZL1NZ 22 ZL1PC 3 ZL2GD 21 ZL2LDX 1 ZL2LN 13
ZL2WT 19 ZL3AA 1 ZL3DMC 4 ZL3RX 1 ZL4CU 7
ZL4FZ 2 ZL4KX 13 ZL4LDY 13 VK3DBD 1 VK3DRQ 19
VK4PN 4 VK4QC 1 TOTAL 169 QTC 20
=
ZL1NZ
---
Net members shine in SKN
Congratulations to all the NZ Net members who took part in Winter Straight Key Night on 14 June, and especially to Paul ZL1AJY who had the highest score, and Grant ZL2GD who placed 3rd-equal. There were 26 stations on the air for SKN. Here are the scores and comments from participants.
---
New FISTS event
The FISTS Downunder group is starting a monthly event – not a contest, they stress – called Weekend Warriors. The first one is this weekend, and you can get details here.
---
Memorial Contest
Working CW-only during Memorial Contest was, as usual, rather quiet at this station. Found my mind wandering several times, and at one point realised I had just sent "CQ NZ Net"! (No one QNIed, which was probably good.)
Bizarrely, I heard no ZL4 stations, so the multipliers were pretty scarce. Were any ZL4s on the air?
A real treat was my last contact, 10 minutes before the contest ended, when I got a call from K6TOP. Kevin and I have worked many times over the years, and he's a keen CW traffic handler who volunteers as a radio operator at KPH and aboard the museum ship SS Jeremiah O'Brien. His signals, from near San Francisco, were QRK5.
---
Changes for annual Night of Nights at KPH
And speaking of KPH, many of you will be aware of their annual Night of Nights in July, when they fire up all those wonderful old marine radiotelegraph transmitters as well as the amateur station K6KPH for an operating marathon. It's always great fun to copy their messages on the maritime frequencies, and to send them a signal report radiogram via K6KPH.
This year, however, things will be a bit different. Here's some info from the latest newsletter of the Maritime Radio Historical Society:
We are sorry to announce that, because of the ongoing closure of the KPH transmit and receive sites due to COVID-19 precautions, it will not be possible for Night of Nights XXI to take place.

While KPH, KFS and K6KPH will not be on the air, MRHS members will be active from their home stations using their personal call signs on the usual K6KPH frequencies (3550, 7050, 14050). At 0001 GMT on 13 July these stations will send the traditional Night of Nights opening message that in the past has been sent via KPH. They will then stand by for calls or will call CQ NON or CQ NIGHT OF NIGHTS. None of us have big-gun stations, so listen carefully for these call signs: WB6OVV, N6BBF, WB6UZX, AA6IF, N6AD, W6AWO, W6DHM and possibly others.

For those who may be unfamiliar with Night of Nights, this is the annual MRHS event intended to honor and commemorate the men and women who made the profession of radiotelegraph operator one of honor and skill. On 12 July 1999 what was thought to be the last commercial Morse message in the US was sent. But, one year later, the MRHS held the first Night of Nights to symbolically pick up the thread and carry on with the tradition of maritime Morse communication. The event has been held every year on that date since then and has become a tradition in the radio community. We hope you will join us for Night of Nights in 2021 and that you will listen for KPH, KFS and K6KPH when we are able to return those stations to the air.
---
Video: Behind the scenes at Net control
In a previous newsletter we saw Dave ZL4LDY using Braille while running a session of the NZ Net – an impressive performance for sure.
This time, we have video of ZL1NZ operating as Net Control Station.
Perhaps you're wondering why I spent so much time looking away from the rig. I was watching Zoom so that I could admit any ops who were in the waiting room for the video conference.

---
Virtual Ham Radio Expo
You can attend this hamfest without leaving home.
The QSO Today podcast people are presenting a ham radio expo on 8 and 9 August and it's free to attend.
Register at qsotodayhamexpo.com
---
Electronic keyers? No way!
In 1956, a ship's radio officer had the audacity to ask the Vibroplex company if they made an electronic keyer. Here's the reply. Sounds a bit testy to me, what do you think?
833 Broadway
New York 3, N.Y.

July 24, 1956

A.C. Gavin
Radio Officer, S/S Rialto
c/o McLean Kennedy Ltd.
Wilson Line Agents
Montreal, Canada

Dear sir:

We do not manufacture an electronic key, as we are of the opinion that they are not as efficient or dependable as the Vibroplex.

Our experience has shown that the electronic key requires constant adjustments, and some models split the dashes, and so forth.

A catalog of our products is enclosed herewith.

Thanking you, we are very truly yours,

THE VIBROPLEX CO., INC.
[signed} J.A. LaHiff
I found this quite interesting, as I have encountered split dits, or contact bounce, on semi-automatic keys, including my Vibroplex Presentation (I even have a so-called dot-stabilizer fitted to it). But I hadn't heard of split dahs on an electronic keyer, had you?
---
Net tip: Service (SVC) messages
In the last newsletter, I alluded to the existence of Service Messages, so let's learn a bit about them.
I always think of a Service Messages as "a message about a message" – or a meta-message. 🙂
Service messages are sent when we want to do things such as:
ask a question about a message (perhaps after we've spotted an apparent error in it)
advise that we have delivered a message
advise that we have been unable to relay a message as requested
Service messages begin with "SVC", rather than the usual "NR". (Note that SVC is NOT a handling instruction, which would go in the HX box of the message preamble.) I think the easiest way to remember how to designate a SVC message is to use the maritimeradio.org message forms, in which you can tick the box to indicate either "SVC" or the more common "NR" in the message preamble.

---
Suggestions?
If you have suggestions on how to make the NZ Net better, or things you'd like to see covered in these updates, please contact ZL1NZ. You might even like to write something for the newsletter.
Thanks for reading, and I hope to see you soon on the NZ Net!
—
Neil Sanderson ZL1NZ, Net Manager
New Zealand Net (NZ NET)
3535.0 kHz at 9pm NZT Mon-Fri