Listed below are Morse Code keys training keys thought to have been produced in New Zealand.
If you know of other keys, or have additional information of photographs to share, please contact the editor.
---
10F/4067 Buzzer Practice Set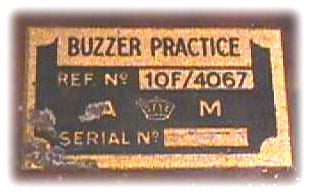 This key is listed under New Zealand keys on the website of key collector Bob Roske NØUF. Whether it was actually made in New Zealand remains unconfirmed, however.
The identification plate reads "REF No. 1ØF/4Ø67" followed by the Air Ministry designation (the initials A and M on either side of a crown).

---
More New Zealand keys